ROTTERDAM — Science teachers at Schalmont High School are taking a new approach to chemistry after being selected by the state to bring green practices into the classroom.
The Department of Environmental Conservation selected Schalmont as the second school to participate in the NYS Green Chemistry in Schools pilot program, which aims to reduce usage of toxic and hazardous chemicals in the high school laboratories. DEC officials also claim using less of the toxic chemicals can provide additional cost savings for schools.
DEC officials will provide training and assistance to teachers, including providing alternative chemistry experiments using no harmful chemicals but remaining similar to current lessons.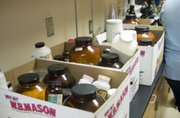 DEC representatives and school officials did a chemical inventory of the school's supplies on Tuesday, Dec. 20, setting aside large bottles of chemicals recommended for removal and proper disposal. Funds are provided by the state through the program to cover disposal.
"I don't think people realize how many chemical they have," said Lynn Tarnowski, chemical hygiene officer for the DEC, standing next to a bevy of cardboard boxes filled with chemicals to remove.
Aida Potter, chief of toxics reduction and green chemistry for DEC, said the chemicals were not only potentially harmful to human health, but also the environment.
Deborah Knight, an environmental program specialist, added the program it is raising awareness of green initiatives.
"It is training the next generation of scientists, business people, teachers, about having that green awareness," said Knight. "There is a big growth now in the business of green technology, so these kids that are learning green chemistry will have a step ahead already of the group by already knowing and having an awareness of the environment and green, but still be able to produce and manufacture products — but doing it in a way that might not hurt the environment as much."
(Continued on Next Page)
Prev Next
Vote on this Story by clicking on the Icon