continued — "There's a lot to get it off the ground … a lot of stresses involved and anytime we've gotten close to causing strife between us, we go back to 'That's not the intention of Grandma' who wants us to remain a unit and wants everyone involved to have a good experience," said Tom Ecobelli.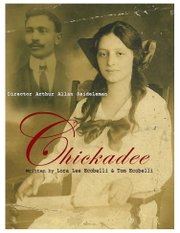 The movie will be inspiring, said the Ecobellis, because not only was she that to them, she had a whole town and culture looking up to her.
"The whole entire town came out to court to watch the trial and it spanned all walks of life. There were people there that were immigrants and lower working class folks, aristocrats of the town, they were all there and it really united a lot of people," said Lora Lee Ecobelli.
She was a young hero of the time to many, said Tom Ecobelli, but all their grandmother really wanted was to humbly move on.
"She never saw herself as a victim, which was quite incredible," said Tom Ecobelli. "She turned into this amazing businesswoman and her generosity within her community was legendary."
Their grandmother owned Ecobelli's in Ballston Spa and was a community fixture long past her death in the '80s. To raise money for "Chickadee," the Ecobellis published a cookbook of family restaurant recipes, sprinkled with anecdotes and photos.
"We're still hearing stories about her," said Tom Ecobelli.
Finalizing financing and securing local locations are the final steps before "Chickadee" can officially commence shooting. The story proved so compelling that the film already has an award-winning cast and impressive behind-the-scenes line-up.
Emmy Award-winning Director Arthur Allan Seidelman has more than 50 feature films under his belt and has won multiple awards. He has compared the movie to "To Kill a Mockingbird" and "The Color Purple."
Actor Chris Cooper has been tapped, known for films such as "Seabiscuit," "The Bourne Supremacy" and "Breach," as well as Emmy Award-winning actress Julie Kavner, known for her voice-over work as Marge Simpson on "The Simpsons" and her appearances in Woody Allen movies and alongside Robert DeNiro and Robin Williams. Ellen Burstyn is also on the cast list and in 1975 was only the third woman in history to win both the Tony Award and Academy Award in the same year.
"For me, it'll be a dream come true, especially to see the actors like Chris Cooper actually perform these things," said Tom Ecobelli.
Seeing the finished product will be exciting, said Lora Lee Ecobelli.
"This has been a passion project and labor of love since the beginning and it's a real tribute to our grandmother's spirit," said Lora Lee Ecobelli.
Visit www.chickadeethemovie.com for news, details and updates.
Vote on this Story by clicking on the Icon