COLONIE — In an incident that was first a response to a hit in run incident in Columbia County turned into a shootout in Colonie and ended with the suspect being shot in the head, according to Colonie police.
Colonie police were contacted by the Columbia County Sherriff's Department around 7 p.m. tonight after information was obtained that license plates matching a car involved in a hit and run incident had driven to a residence at 2 Leach Ave. in Colonie.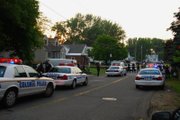 Agostino Jubrey, 20, had hit a motorcyclist in Kinderhook and left the scene, according to Lt. Robert Winn . The cyclist is said to be injured but nothing life threatening. When a Colonie police officer and a Columbia County Sherriff's Department deputy pulled up, in separate vehicles, to the Leach Avenue home, Jubrey was allegedly observed in the driveway pointing a .45 caliber handgun at his mother and stepfather, who were in the backyard.
There has been no information released as to what the dispute was over.
"Unbeknownst to the officers he had already fired the weapon two times," said Winn, adding one shot went through a window of a shed in the backyard. "One of them struck the stepfather in the hand. As the officers are pulling up, Agostino Jubrey swung the handgun around and started firing at the two officers."
One bullet hit the Columbia County Sherriff deputy's vehicle, but neither of the officers was shot. Jubrey then got into his car and began backing up while continuing to open fire on the officers, according to Winn. The Colonie police officer then returned fire and struck Jubrey in the head. The number of times Jubrey was shot has yet to be confirmed.
Jubrey's vehicle then crashed into a Colonie police vehicle and stopped. Police took him into custody where he was also allegedly found to be in possession of a large survival knife. Winn said Jubrey was unconscious when he was taken to Albany Medical Center but was reported to be in stable condition before going into surgery.
(Continued on Next Page)
Prev Next
Vote on this Story by clicking on the Icon