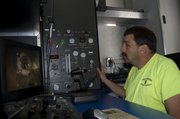 continued — The camera also allows workers to see if there are roots growing into the pipe and if the pipe has been damaged in any way. The entire town is inspected once a year with truck.
Pipes throughout the town are all different sizes, ranging from 6 inches to 24 inches, all leading to the waste water treatment plant, said Yetto.
Councilwoman Denise Murphy McGraw said the varying size of pipes was something she wasn't aware of before she joined the Niskayuna Town Board.
"Throughout the town there is all different size pipes, and it affects the water pressure, the kind of jobs we take on and replacing the pipe," said McGraw. "I just figured a pipe, is a pipe, is a pipe and so when something happens there is all these different issues that comes up."
The grout truck has data in a computer onboard that geo-references all the different pipes. If a worker clicks on a section of pipe, they can find out how big the pipe is, the length and what type of material the pipe is made from, along with other information.
To repair the joints of a pipe, which can deteriorate over time, a "packer" is sent into the pipe with a camera attached to it. Newer PVC pipes have rubber joints, which can be more easily repaired and replaced.
Making an old pipe new
The packer has a port where the two chemicals used to seal up joints are injected into it and the bladder inside the packer expands as air is pumped into it. An air test is done to test a joint and if it fails the test by not keeping constant air pressure then the solution seals up the joint.
"These guys went through quite a bit of training over three weeks just to run the truck," said Yetto. "They are constantly being refreshed with refresher courses."
Vote on this Story by clicking on the Icon