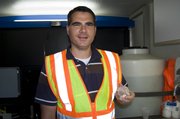 continued — The sealant mixture is pumped out of the truck through tubes and takes about 30 seconds to form a solid.
"Sewer (water) can still flow through the packer during work, so service doesn't get disrupted at all. In fact, this is what makes it so nice " you don't have to dig," said Yetto. "We try to do as little impact as possible to the residents because really we want to avoid digging once you start digging it, it disrupts service and costs a lot more."
The stretch of pipe the town was repairing on Friday, June 3, was 210-foot long section.
Setting up the truck and equipment is the longest part, said Yetto. To replace a similar section of pipe would take weeks to complete.
The crew also has to be aware of temperature changes, because a 10-degree temperature increase will cut the time in half for the chemical sealer to form a solid.
Kevin Hart, water and sewer maintenance worker for the town, sat at a desk at the front end of a truck with a computer, a screen showing a video feed from the pump and various equipment to seal the pipe joints.
One of the more troubling joints repaired on June 3 took around 3.5 gallons of the solution to fix, which Hart administered several times. Hart uses a joystick to control the packer and several nearby switches controlling air pressure and how much solution is pumped out.
Each time he would add more solution to the joint, wait for it to settle, and then check the pressure of the joints. Since the pressure didn't remain consistent, the solution was applied several more times.
Vote on this Story by clicking on the Icon