CAPITAL DISTRICT — Each year, New York State mandates an inspection of all 524 miles of the state's canal system. This year, for the first time in two decades, that inspection was done completely by boat with NYS Canal Corporation Commissioner Brian Stratton at the helm.
"For many years it was done by boat, long before I arrived," said Stratton. "I think … it needs to be inspected in the most logical and practical manner possible. The only way you really can see the canal and know its inner-workings and challenges and many assets and opportunities for development is to get out on the canal."
Stratton started his canal crawl about six weeks ago, completing a portion on Friday, Oct. 21, that had President and CEO of the Chamber of Southern Saratoga County Pete Bardunias along for the ride.
"It affords me the opportunity to invite local elected officials and canal stakeholders out along the system ot be able to view it with me and have me talk with them about what the visions and their opportunities are for economic development," said Stratton.
Bardunias said he enjoyed the trip and appreciated the invite.
"There was a perceptible feeling of optimism that the canal can still be a positive economic factor even in the 21st Century," said Bardunias. "Even in today's Tech Valley it seems that the hard work of our ancestors a century ago may still play a role in shaping our future."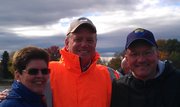 Throughout the inspection, Stratton has been keeping an eye out for repairs that need to be done, general maintenance like trimming trees or more extensive capital improvements. There's also a technical inspection carried out by the Canal Corporation's engineering staff to examine the mechanics of the locks and an inspection done of the more than 60 vessels like tugboats or barges that consistently utilize the canal.
(Continued on Next Page)
Prev Next
Vote on this Story by clicking on the Icon