COLONIE — It is a rare moment when politicians actually answer the questions asked of them during a debate but Republican candidate for supervisor Denise Sheehan and incumbent Colonie Supervisor Paula Mahan did just that at the Holiday Inn on Wolf Road on Wednesday, Nov. 2.
The night was filled with a lot of information as both candidates came prepared to discuss the issues that were most important to the residents. The ever-popular topic of the operating agreement for the landfill was mentioned several times but was almost overshadowed by issues that came to the surface for the first time in this campaign.
A lot of the questions were centered on the town's financial situation. Right off the bat, the first question dealt with the New York State mandated two percent tax cap on property taxes and asked how each candidate would deal with it. Mahan simply said that she already had accomplished what she set out to do, which was keep within the cap. In fact, she even decreased property taxes by half a percent.
Sheehan was not impressed, as she said the town's assessed value had actually dropped by $60 million since Mahan took office and that real property taxes had also decreased. To meet the tax cap, though, Sheehan said she would make sure to have her accounting practices open to the public, so both she and the public knew how the town was fairing. This would be done through quarterly updates on the town's finances, which would be made available to the public and not just the town board.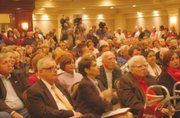 "We won't be able to meet the challenges of the tax cap if we don't know where we stand," Sheehan said.
Mahan listed out some of her accomplishments that helped bring the town within the cap such as securing the town's greatest asset, the landfill, by entering an operating agreement with Waste Connections, Inc. She also said that working with department heads on bringing down salaries and contractual services helped the town be in the postion it is today.
(Continued on Next Page)
Prev Next
Vote on this Story by clicking on the Icon