SCHENECTADY — The first winds of a winter chill didn't cool down the excitement of government officials and business owners celebrating the completion of a project intended to spur further growth.
Upper Union Street Business Improvement District members gathered along with City of Schenectady and county officials to celebrate the completion of a $4 million streetscape renovation project on Friday, Oct. 28. The project was jointly funded by the City of Schenectady and the Schenectady County Metroplex Development Authority and brought new landscaping, lighting, curbs, streets and sidewalks, providing a facelift to area. The Upper Union Street strip is home to almost 80 shops, restaurants and retailers, which together employ over 650 people, according to county officials.
Design issues did raise some bumps along the path to completion, but the final plan, consisting of three phases, ultimately addressed the concerns and desires of business owners collectively.
"Upper Union Street looks great and we couldn't be happier," said Chris DiCocco, chairman for Upper Street Union BID. "The board itself is truly a representation of the street and its merchants. We worked collectively as a group to see things, not only in its infancy stage but to its completion and growth, so the board is what the street represents and that's cooperation growth and success. We wouldn't be able to do what we do today without them."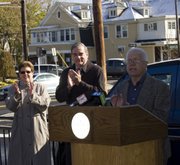 County Legislator Gary Hughes, chairman of the legislature's Economic Development and Planning Committee, said the renovation of Upper Union Street is a template to use when looking at other commercial corridors throughout Schenectady. Hughes, D-Schenectady, said the project represents efforts outside of downtown Schenectady to improve commercial corridors and spur economic growth.
"It is an excellent template that we can take across Schenectady in years to come," Hughes said.
The last phase of the project totaled $650,000 and the cost was split evenly between Metroplex and Schenectady. The section of Union Street within the project starts at Garner Avenue in the city and runs to Van Antwerp Road at the Niskayuna town line. The unified look also promotes the visibility of units in the business district.
(Continued on Next Page)
Prev Next
Vote on this Story by clicking on the Icon