Photo Gallery
Tavern Night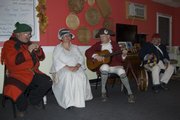 From the music to the food, "Tavern Night" on Oct. 22 sent guests back into history.
continued — Preconceptions of exactly what Tavern Night entails, based on current understandings of what a tavern is and does, should probably be left at the door. While there was a colonial brew served in pints, the tavern served a far different purpose than "getting hydrated."
Taverns were more of a rest stop and hotel for travelers in colonial times, and provided families and people a place to stop and eat, maybe even pay a few shillings to sleep on the floor or share a bed. The event focuses on common people taverns, which were far different from the grandiose offerings at taverns for the rich.
"The ones where people stopped at while traveling were called 'ordinaries' and they would have places where people would lodge," Kravetz said. "I am not sure I would have wanted to truly have traveled in those time periods."
Journeys would often be "extremely long, tedious and difficult," she said, because there were no real roads allowing people to zip down the highway like modern times. Travel between the main cities, such as New York City to Boston, would have taken several days.
Common taverns could even be in someone's home, with a portion of the house set up to accommodate guests. She said the Mabee Farm is even believed to have possibly been a tavern.
One of the only differences in the Tavern Night offering is that alcohol isn't served, but the food is right on mark to how it would have been prepared, with few frills or spices.
"We use the recipes as close as we can without sacrificing the health codes and things," Kravetz said.
Another, maybe odd feature, is guests don't know what they're eating until they arrive at the event. She said the food offering is kept to something that would likely appeal to most people.
Vote on this Story by clicking on the Icon