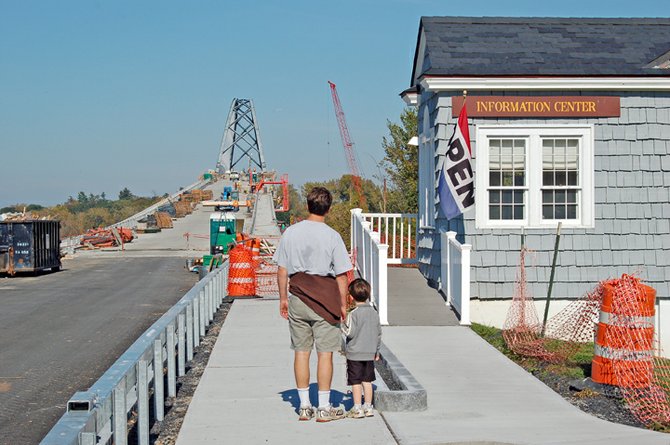 Crown Point — The Lake Champlain Bridge will be open to vehicular traffic Monday, Nov. 7, New York Gov. Andrew Cuomo's office confirmed Thursday evening, Nov. 3.
A ribbon-cutting ceremony in commemoration of the long-awaited bridge opening will take place at 2:30 p.m. Monday, the governor's office reported. New York State Lt. Gov. Robert Duffy is expected to attend the ceremony along with Vermont Gov. Peter Shumlin and other dignitaries from both New York and Vermont.
In a prepared statement, Cuomo said, "The opening of a new bridge over Lake Champlain is great news for residents and businesses in the North Country who depend upon this bridge and have been inconvenienced by its closure. When the bridge was closed and demolished in 2009, it was estimated to take eight years to rebuild. I am pleased to announce that thanks to the hard work and dedication of our federal, state, and local partners, the bridge is opening far earlier than planned. Today's announcement demonstrates that government can work effectively and efficiently for the people. I thank the New York State Department of Transportation, the Federal Highway Administration, and our partners in Vermont for their assistance in building this bridge, which will help revitalize local economies and strengthen the relationship between our two states."
The news comes two days after DOT officials refused to give an opening date for the new Lake Champlain Bridge. As Flatiron Construction crews make final adjustments to the lighting and pour concrete between the pre-cast deck panels and sidewalk panels of the bridge, DOT Senior Public Information Officer Carol Breen said Nov. 1 that work continued and she expected the span to open sometime before the end of 2011.
Asked what needed to happen in order for DOT officials to pick an official opening date, Breen said, "There's no magic point we have to get to ... We are getting closer and closer every day."
(Continued on Next Page)
Prev Next
Vote on this Story by clicking on the Icon