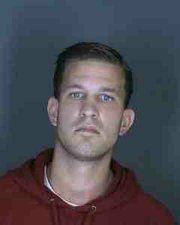 GLENVILLE — After investigating a violent July robbery, Glenville police have arrested a Delmar man.
Detective William Marchewka, with the assistance of State Parole Officer Rebecca Hotaling, arrested Vincent Jendrzejczak, 30, of Cherry Lane, Delmar, after DNA evidence collected at the scene allegedly identified the suspect.
Jendrzejczak was arrested for the charges of robbery in the first degree, a Class B felony, grand larceny in the third degree, a Class D felony, and assault in the second degree with a dangerous weapon, also a Class D felony.
The incident occurred at the Sunoco-Mart, located at 2901 Amsterdam Road, Glenville, around midnight on July 8. Jendrzejczak allegedly waited for the store clerk to close and then struck the clerk in the head with a steel crow bar several time. He allegedly stole a laptop and money from the clerk.
Jendrzejczak fled the store, according to police reports. The Schenectady City Police K-9 unit, Rotterdam and Scotia Police departments assisted Glenville police.
The clerk suffered a large laceration to his head that required staples and stitches, according to police. He also suffered a broken nose and lacerations to his knees, said police. He was hospitalized at Ellis Hospital and released the following day.
Jendrzejczak was arraigned and remanded to Schenectady County Jail without bail. He is due back for further processing in Glenville court on Nov. 15.
Vote on this Story by clicking on the Icon