The Bethlehem Industrial Development Agency has approved Tier 1 tax abatements for the first three tenants at the Vista Technology Park, subject to "clawback" agreements that would reduce the benefits if certain requirements were not met.
After a lengthy discussion at a Nov. 7 meeting regarding the final bond resolution for the project, members of the Industrial Development Agency board unanimously approved a PILOT, or payment in lieu of taxes, agreement for a ShopRite supermarket, and SEFCU and Berkshire Bank branches. The proposals would mean tax breaks of nearly $200,000 in total.
The board briefly discussed potential clawback stipulations, including a failure to make PILOT payments, changes in the purpose of the project and length of stay for businesses in the park, which could void the PILOT agreement in the future. The matters will be debated at a meeting scheduled for Nov. 23.
Photo Gallery
Vista construction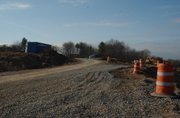 Work is underway at the Vista Technology Park off of Route 85 in Slingerlands. These pictures, taken Nov. 7, show construction of a roadway that will stretch through the park, and preliminary work being done for initial construction projects, including a ShopRite supermarket, and branches of SEFCU and Berkshire Bank.
Most spoke in favor of the agreements at a Nov. 1 public hearing. The agreements will exempt the new businesses from paying property taxes for the first two years, with a sliding scale upward of payments over the following ten years until the businesses are paying their full share of property taxes. Some, however, believe the payments should begin right away.
"What you're doing is you're giving a tax incentive to a business that's already decided that they want to be a player," said Slingerlands resident Allen Greenberg. "If their taxes are less, my taxes are more."
Former Town Supervisor Terri Egan said she had the same reaction initially, and reminded those in attendance that the town was reluctant at first to issue the abatements. She now believes these benefits are an opportunity for Bethlehem to "get in the game."
"It has been a very long road, and there have been many obstacles and challenges," said Egan. "I feel very strongly and very much in favor of this project, the three that we have before us, as well as the Tier 1 abatements."
(Continued on Next Page)
Prev Next
Vote on this Story by clicking on the Icon