GLENVILLE — Making sure every child has a toy on Christmas morning is the festive annual mission that fuels a holiday train through New York's communities, bringing joy one present at a time.
The local Toys for Tots program kicked off at the U.S. Marines Reserve Base in Glenville on Thursday, Oct. 27, with the Marine Corps Reserves' Dunkin' Donuts Toys for Tots Train delivering donations. Canadian Pacific will operate the train and travel to 12 communities throughout the state. New, unwrapped toys can be dropped at more than 400 locations throughout the Capital District, along with more than 100 Dunkin' Donuts stores.
This is the third year Dunkin' Donuts has donated money to the holiday campaign, with $25,000 from the company and franchise owners being given this year. In 2009, the company saved the program from going under. Funds are used to not only purchase toys, because winter coats are also distributed to children. The South Colonie School District will administer the coat drive.
Eric Stensland, field marketing manager for Dunkin' Donuts, said he was pleased to once again be a part of the holiday effort.
"For the past two years, I've had the privilege myself of witnessing firsthand the dedication of these fantastic marines as they run the Toys for Tots holiday train and bring smiles to the children of the community," Stensland said. "I speak on behalf of my local owners … we couldn't think of an organization more worthy of support during the holiday season."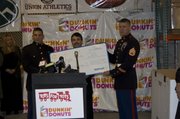 The Glenville Walmart also donated $20,000 toward the campaign, which was raised through the store. Store Manager Kirk Christian said last year a representative for Toys for Tots contacted him to help out with shopping.
"I have kids of my own and if they needed help I would wish somebody would help them out," Christian said. "We are glad to be a help."
(Continued on Next Page)
Prev Next
Vote on this Story by clicking on the Icon