continued — There are 50 employees from the store volunteering five hours each to provide a guaranteed 250 hours for the campaign. Most of the toys purchased for the Albany-centered campaign will also be purchased from the Glenville Walmart.
"They all live in this area … so they definitely wanted to help out," Christian said.
Following effects of flooding from Tropical Storms Irene and Lee leaving many out of their homes or trying to rebuild, the need for donations is even greater.
"We are looking to really step up our numbers due to the tragedy we had earlier this year throughout the area to distribute more toys," said Staff Sgt. James Bolen, Toys for Tots coordinator for the U.S. Marines Corps Reserve, who added the campaign runs all the way up to the Canadian border.
Last year's goal of collecting 120,000 toys was reached and this year, Bolen said, a similar amount of support is needed.
The Toys for Tots train will begin its 2011 run on Saturday, Dec. 3, in Binghamton and make regional stops in Oneonta, Cobleskill and Delanson. The following day it will travel from Albany to Rouse Point with stops in Mechanicville, Saratoga and Whitehall.
Michael O'Sullivan, road foreman for Canadian Pacific, said all the train crews also volunteer their time, but are more than willing to help. This is his fourth year being on the train.
"I have way more volunteers than I can use each year," O'Sullivan said.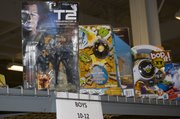 When the train stops at one of the scheduled communities, the Marine Corps Reserves are joined by "elves" to hand out the toys to children. At the back of the train, Marines unload bags of toys going to various social services groups.
O'Sullivan said since he is a Marine, besides getting to help out families, he enjoys working with his fellow Marines.
Vote on this Story by clicking on the Icon