continued — "I have security guarding it 24/7," said Goodman. "The train stops there but the kids don't get of because it's dark and cold. Santa and the elves get on the train and ride the train back with the families."
Each child leaves with a Christmas silver bell and what's sure to be special memories.
"Yes, it's recreation and entertainment but it goes deeper than that. It's an experience, creating memories," said Goodman. "It becomes a family tradition that families look forward to year after year."
Creating an event based off a well-known book and movie makes it an even more memorable experience for children and their families, said Goodman. The Polar Express in particular also brings generations together better than other events the railway offers.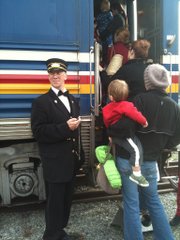 "The scenic excursions in the summertime aren't perfect for kids because they last all day and the Thomas the Tank Engine is all about the little kids but the Polar Express is an experience for every generation," said Goodman.
Themed events on trains tend to be even more special, said Goodman.
"It brings (people) together in one place to share and enjoy a train and there's not opportunities to do that," said Goodman. "For a lot of them, they haven't even ridden a train before."
Polar Express trains leave from the station at 6 and 8 p.m. on select nights and there are three choices of seating available either in coach cars or a two-level dome car that displays the night sky.
Specific dates are available at www.nypolarexpressride.com or by calling 877-726-7245.
Vote on this Story by clicking on the Icon