COLONIE — Colonie Supervisor Paula Mahan might be declaring victory but the race for supervisor is not over yet.
In down-to-the-wire race that continues on, the night of Tuesday, Nov. 8, ended with the Albany County Board of Elections reporting Mahan leading her opponent with 10,966 votes to 10,670 votes, a mere 296-vote margin.
Sheehan said it was too early to call the race as she noted there are still around 1,000 absentee ballots yet to be counted. She said that there is still a chance for her to win and said that nothing is official until all the votes have been counted.
"You watch it but it doesn't really matter until it's done," Sheehan said. "It's like this ED [Election District] and that ED, it doesn't really matter until it's all counted. The fact that we're this close even after all of that, it's only fair to make sure we get every absentee. So many people did absentees this year and I think their voices should count."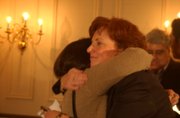 According to Rachel Bledi, Republican commissioner for the Albany County Board of Elections, a total of 1,238 absentee ballots went out and 944 had been returned on Election Day. Democrats returned 287, with 394 still out, and Republicans returned 398, with 494 still out. Bledi added that there are also 302 ballots still out for those not affiliated with a party with 228 already returned.
Absentee ballot canvassing is scheduled for Wednesday, Nov. 16 at 9 a.m., the day after the ballots are due back to the board (they must be postmarked no later than Election Day).
Ballots from members of the military are given another week to come in. There are 22 absentee ballots out to service members, with 11 already returned.
"They have until the [November] 21st," Bledi said. "They have extra time. They aren't counted unless we're talking about a situation where we count all the other absentee ballots and it's down to a difference of one or two votes."
(Continued on Next Page)
Prev Next
Vote on this Story by clicking on the Icon