GLENVILLE — Worries about a vacant Glenville eyesore came down along with the walls of the former Kmart.
The former Kmart Plaza on Route 50 in Glenville is starting to look a little different. Workers from Jackson Demolition, based out of Schenectady, were tearing down walls and moving debris on Friday, Nov. 4, as Schenectady County and Glenville officials came together to see the walls tumble firsthand. Once demolition is complete, Target is constructing a new 135,000-square-foot store with an adjoining30,000-square-foot retail space.
The total project cost is estimated at $20 million and is said to make way for over 200 jobs in the new Target. The Schenectady Metroplex Development Authority provided an exemption from sales tax for construction material and equipment used to set up the two new retail buildings. Also, Metroplex is providing an $180,000 grant towards infrastructure costs.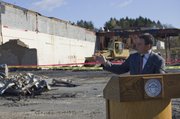 Glenville Supervisor Christopher Koetzle expressed his pleasure in seeing one of the blighted commercial spots in the town being redeveloped. The 13.2-acre site has been vacant since August 2006, which lead town officials to mark the site's redevelopment as a top priority.
"We are excited for this project to get started. We are excited for this project to continue. It really demonstrates the renaissance that is happening here in the Town of Glenville," Koetzle said. "Many of our empty spaces have been filled over the past months."
Ray Gillen, chairman of Metroplex and commissioner of Economic Development and Planning for Schenectady County, recounted Koetzle's commitment to move the project forward. Gillen added he had "great support" from the town.
"I remember one Planning and Zoning Board meeting (Christopher Koetzle) was nice enough to come out … it was a very long meeting and we had a lot of issues on this project," Gillen said. "Chris looked everyone in the eyes and said, 'My wife told me not to come home tonight until the Target project is approved.'"
(Continued on Next Page)
Prev Next
Vote on this Story by clicking on the Icon