NISKAYUNA — After a lifetime of writing for a living, one local man found writing for himself to be one of his most rewarding experiences.
Niskayuna resident Craig Stevens released his first fiction novel "Legacies of Cherry Ridge" in mid-October after a story scratching away in his head late at night had to come out. After his wife, Rita, noticed his sleeplessness she told him if he couldn't sleep he might as well write down his thoughts for the brewing tale. Craig Stevens, 65, then started writing down what the characters from his now book implored him to record.
"I would be lying in bed at night and [the characters] would say have me say this, have me do this,"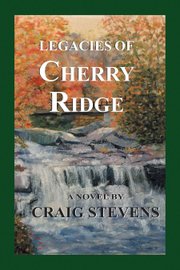 Stevens said "I would get up and write what they have gotten into … I wrote most of it at night. I tend to write after dark."
As light jazz from a Toronto radio station played in the background, he started writing "Legacies of Cherry Ridge" as just another short story. Up until releasing his book, he had only written short fiction, but this one kept developing.
"The story was going to be a short story as a throwback to the classic diner," Stevens said. "The first line I wrote had to do with having the lead character take his dog into an old fashioned diner."
Stevens is co-owner and publisher of Capital Region Building magazine, which recently celebrated its 15th anniversary, but he formerly was a college professor and has written academic pieces. He also has ghostwritten many articles and has written under his own name for a local newspaper and other publications. He did co-author a book on management, too
"I have been writing since I was a kid one way or another. I have made my living more or less from writing," he said. "I went to school for political science, but I probably should have went for literature."
(Continued on Next Page)
Prev Next
Vote on this Story by clicking on the Icon