Kyle Strube scored on a four-yard run to give the Sabres a 25-0 lead halfway into the third quarter before the Indians got their first possession of the half and started to go to work.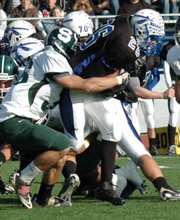 On the ensuing drive, Peru quarterback Taylor Rock found Mike Holdridge for a 42-yard scoring play, putting the Indians on the board. After a Hunter Bruno fumble recovery, Rock scored on a one-yard sneak play to cut the lead to 25-12 as the third quarter ended.
In the fourth quarter, Holdridge intercepted Nicoletti, leading to a Peru drive that lasted 19 plays and took 5:07 off the clock, with Jeff Kurz scoring from two yards out. The Indians added a two-point conversion to narrow the gap to 25-20.
The Sabres were forced to just three plays on their next drive, punting the ball back to the Indians with 55 seconds left and setting up the final plays of the game, ending with the Gallo game-saving hit.
"Our seniors did not want to give in," Peru head coach Nick Damiani said. "They were the ones that got the belief back into the program. They had a great second half because they knew that they had to lay it all on the line or the season was over."
Damiani said he was pleased with the way the team responded to the turnover issues in the first quarter of the game.
"After the opening two possessions and then the first drive of the third quarter, they really didn't do anything besides that," he said. "You just can't give a good team opportunities like we gave them."
Nicoletti finished with 49 passing yards and 73 rushing yards and combined for three touchdowns for the Sabres, while Willis had 43 yards rushing and Hildebrand combined 72 rushing yards with 30 receiving yards and one score. Gallo finished defensively with a pair of tackles for loss, an interception and a forced fumble, while Brian Pomykai had two sacks and Mike Floccuzio had two tackles for loss, including a sack.
Rock finished 22 of 33 passing for 199 yards and two scores to go with the three picks, while Alex Cederstrom had 43 yards rushing and Holdridge had 126 yards receiving and one score. Hunter Bruno had 2.5 tackles for loss, while Cederstrom had 3.5 TFL and one sack and Tim Remillard had 2.0 TFL.
Vote on this Story by clicking on the Icon