Saratoga — Mary Kathryn Jablonski will draw on poems created while she watched her first marriage dissolve when she presents two poetry readings, the first on Nov. 16 at the Old Forge Library and the second on Dec. 10 at the Woodstock Poetry Society and Festival.
"I'm going to be reading about marriage … interestingly enough, and I didn't plan this, the reading in November would have been the 25th anniversary of my wedding," said Jablonski, of Saratoga Springs. "I started to look through the hundreds of poems I have and I found there are a lot of poems that are on the theme of marriage."
She'll also be reading selections from her 2008 chapbook, "To the Husband I have Not Yet Met," which includes poems cloaked in humor or other unconventional styles.
"They're my response or observation to human nature or to nature," said Jablonski.
Nature and human nature are the two driving forces behind every poem she writes.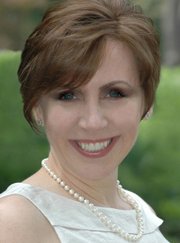 "I realized how common or similar nature and human nature actually are," said Jablonski.
There are poems like "Marriage as Death" and "UG2BKM," meaning "You've Got to be Kidding Me" in text message language.
"I was at an open mic and a guy proposed to his girlfriend," said Jablonski.
There's also one called "To a Runaway Bride on the Anniversary of Your Escape" that's inspired by the 2006 story of a bride who had 14 bridesmaids and groomsmen lined up and 600 wedding invitations sent out, who disappeared four days before her wedding.
Poems and visual art has always been the center of her life.
"I've always written poems. I'm a visual artist as well as a poet and both have been part of my life since childhood," said Jablonski.
She doesn't remember what her first poem was about but in elementary school she said she unknowingly imitated Longfellow's style.
(Continued on Next Page)
Prev Next
Vote on this Story by clicking on the Icon