SCHENECTADY — Those who served at Kingsway Community didn't feel forgotten on Veterans Day.
Nearly 40 veterans, all Kingsway residents and staff, were honored during the Kingsway Arms Nursing Center's ceremony on Friday, Nov. 11.
The ceremony started off with a Presentation of Colors by members of the VFW Post 357 and was followed by members of the Church of Nazarene singing the "Star Spangled Banner" and "God Bless America." Each honored veteran was individually named and placed a large star with their name on to a "service flag." Then Susan Wells, from the Stars for our Troops group, handed out stars cut from a retired American flag.
This is the tenth year Kingsway has held the ceremony, which started after Director of Marketing Jean Barnoski looked into starting a service flag at the home. The flag is displayed in the main dinning room, which serves 90 percent of the residents.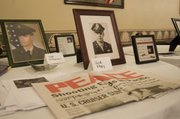 "The idea popped into my head about maybe making our own service flag, but it had to be much bigger because we have a lot of veterans," Barnoski said. "The residents like to go up and pick out their names on the flag."
The ceremony has been a successful event at the center and she said she receives positive feedback each year.
"This is one of the most positive programs that we do as far as honoring our veterans," Barnoski said. "We always have very good family response … they try their best to make it and they just love it. I can't tell you how many times I've gotten thank you letters or cards."
During the first ceremony 10 years ago there was one World War I veteran at the home and the day after Veterans Day he passed away.
"As we go on, we see less and less of our WWII veterans and more of our Korean conflict veterans and Vietnam conflict veterans," she said. "As far as the staff, we are seeing more and more staff members … as serving in Desert Storm and Grenada conflict."
(Continued on Next Page)
Prev Next
Vote on this Story by clicking on the Icon