continued — She said she enjoyed being able to honor the veterans at the home and acknowledge that they are still a part of the community.
"Their service to our country is still very important," she said. "It is like honoring my grandfather who passed over and over again and he was a veteran of three wars."
Handing out a star
Susan Wells, a Troy resident, started handing out stars to veterans through Stars for our Troops after being introduced to the effort and wanting to hand them out herself.
"I give them to people that have care packages going overseas to the soldiers," Wells said. "I always carry some in my pocket."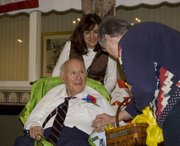 She said the Vietnam veterans are always very thankful to receive the recognition from her. Even though she is not a veteran, she said it means a "tremendous" amount to her.
"I'm an Uncle Sam red, white and blue patriot," she said. "When I found out about this I thought what a great way, something small but significant."
The embroidered stars from a retired flag were chosen because troops can carry it in their pockets while on patrol.
"They can put their hand in their pocket and feel the star and they'll know someone is thinking of them," she said. "I have been getting in flags from all over the country."
She has also been shipping her stars all over the country too, even to Medal of Honor recipients.
The flags tend to be made from synthetic material, so if they weren't reused for the program they would often be underground.
"The majority of the flags have to be buried and this takes a part of that and it is recycling," she said. "Any age can do it. I've had little 5 and 6 year olds that want to help and they want to put the star in the pouch."
For information on Stars for our Troops and to reach Susan Wells, email Stars4ourTroops@aol.com or visit www.troygermaniahall.com/Stars-for-our-Troops.html.
Vote on this Story by clicking on the Icon