Saratoga — It's Thanksgiving Day and our kitchen is crazy, we all work together and no one is lazy…
That's the beginning of a Thanksgiving tale penned by Wendy Haugh of Burnt Hills, who wrote the children's story, "The Turkey Hunt," 31 years ago. It was just published in the November issue of "Highlights for Children."
"I'm very happy to see it in print, it's a long time coming," said Haugh. "The timing, I felt, was really about as good as it could get for this piece."
When Haugh first wrote the short story in 1981, she was a new mother with little time to spend pitching to magazines or publishing companies. Two sons later, the Thanksgiving story had been all but forgotten.
"I don't know how it happened but I was just so busy I never read the story to them," said Haugh.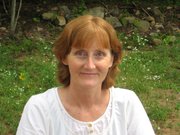 Now she has grandchildren, so Haugh dug out the story and sent it off to "Highlights," an interactive magazine for kids that's been around for more than 60 years. After trimming 800 words and adding miniature illustrations throughout, "The Turkey Hunt" is now a two-page spread.
"There are at least seven different characters so the artist had to draw small. There's all these tiny people doing all the different things like preparing the meal, bustling with food, a 2-year-old playing with the dog," said Haugh.
The gist of the story is that a turkey gets stolen and the family hunts to solve the mystery before Thanksgiving dinner is ruined. It's written in verse and modeled after "The Night Before Christmas."
This isn't the first time Haugh's work has graced the waiting rooms of doctor offices, sat on the magazine stands of grocery stores or adorned coffee tables.
She's had articles, stories and poems for children and adults published in "Children's Digest," "Woman's World Weekly" and more.
(Continued on Next Page)
Prev Next
Vote on this Story by clicking on the Icon