Saratoga — Santa isn't just for kids this Christmas, with Home Instead Senior Care network's "Be a Santa to a Senior" program.
"At Christmastime a lot of the focus is on children, which is wonderful and they obviously deserve a merry Christmas, but there are seniors who don't get anything; not a card, not a smile, so we want to bring some holiday cheer to people not receiving anything at this time," said Maureen Hopkins of Home Instead Senior Care in Saratoga Springs.
For the past eight years, Christmas trees with tagged ornaments have been displayed at locations around Saratoga County. The first name of a senior and their wish list is attached to each ornament and all shoppers have to do to become Santa is pick an ornament.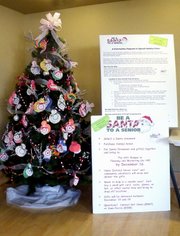 "Community members go pick ornaments off a tree site, go shopping and return the gift to our office or the tree site," said Hopkins.
The targeted seniors are those who can barely make ends meet, with Home Instead Senior Care reaching out to various agencies for names, and their wish lists tend to be practical.
"Most of the things are smaller items like stamps, socks, clothing items and books," said Hopkins.
The community response has been "overwhelming," said Hopkins, with people stepping up to help their needy elderly neighbors.
"The past couple years we've had managers at Price Chopper say shoppers come in a week or two before our trees go up to make sure we're doing the program again," said Hopkins. "They're aware of us and looking for us and are overly generous."
The contribution of little gifts is cause enough for appreciation, said Hopkins, but there's been at least one person that took Santa to the extreme.
"We had one request two years ago, there was a senior sleeping on a futon and it was hurting his hips to the point where he might have needed surgery so he requested a bed," said Hopkins.
(Continued on Next Page)
Prev Next
Vote on this Story by clicking on the Icon