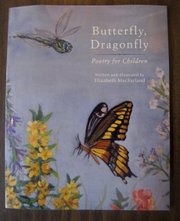 NISKAYUNA — A Niskayuna resident has tied her oil paintings and poetry together for an art show that stems from a children's book she released earlier this year.
Elizabeth MacFarland, a Burnt Hills native, started working on a children's book, "Butterfly, Dragonfly: Poetry for Children" about two years ago, but she never planned to illustrate the book. MacFarland had poems she wrote during the 1980s and she eventually wanted to bring them to life. She planned to have her cousin illustrate the book, but MacFarland ended up doing the paintings after her cousin started to face health problems.
"I like the fact that other people are now able to enjoy the poems and paintings other than just having it in a drawer," MacFarland said.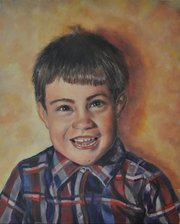 She said she wanted to have artwork for the book that could stand up on its own, and all of her paintings included in the show are from the book. The paintings were inspired and created around the poems.
"I was always drawn to visual arts, even as a child, and I used to try and copy Van Goghs and things like that," MacFarland said. "I never did study at all. When my boys were little I would do pencil sketches of them."
When her two boys left home, she said her urge to paint started.
"I got into painting when they left home and I was suffering empty nest syndrome," she said.
She knew of a teacher in Albany teaching oil painting and started taking lessons in 2001. The first still life painting she finished was on 9/11.
"I heard on the radio what was going on and there I was finishing my first painting," she said.
Her work is being featured at the Moon & River Cafe, located on South Ferry Street in Schenectady's Historic Stockade, until the end of December. An opening reception is being held on Friday, Nov. 18, from 6 to 8 p.m. MacFarland also gives piano lessons in her home studio and on Dec. 4 she will play and be accompanied by her students and flutist Laura Bulatao.
(Continued on Next Page)
Prev Next
Vote on this Story by clicking on the Icon