Bethlehem Police are continuing their investigation into an armed robbery that took place Tuesday, Nov. 15, at the TD Bank branch on Delaware Avenue in Delmar.
Police received a report at 2:30 p.m. of a robbery at the branch. Police said a man armed with a handgun approached a teller and demanded money. The suspect left the bank with an undisclosed amount of cash. No one was injured. As of Friday, Nov. 19, no arrests had been made.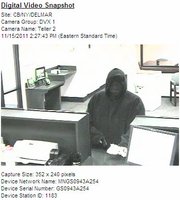 Police are looking for a white male in his 20s or 30s who was wearing a dark colored hooded sweatshirt, camouflage-style pants, a black knit hat and mask. He stood five feet eight inches to six feet tall, had reddish-blonde facial hair, was unshaven, had a raspy voice and a strong odor of cigarettes on him, police said.
Albany police and New York State Police assisted Bethlehem police at the scene. Canine units were at the scene shortly after 3 p.m., and a helicopter circled the area. The suspect was last seen fleeing in the direction of Hudson Avenue. Officers with weapons were also visible outside the bank shortly after the robbery.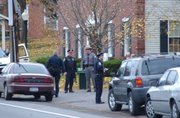 Bethlehem Central School District officials were notified about the robbery, and students at Elsmere Elementary School were not permitted to walk or bike home that day.
Bethlehem police are investigating a number of leads, but ask anyone who may have information to call them at 439-9973.
Check spotlightnews.com for updates on this story.

Vote on this Story by clicking on the Icon