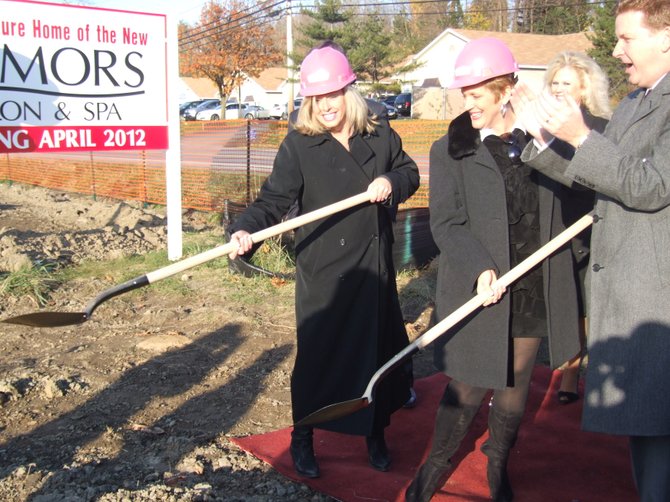 continued — "Interest rates are low and financing, as long as you have good relationships with these institutions, it's a good time if you have the courage to take that step forward," said Aviza. "We're excited about creating jobs in our own backyard and bringing more money to the area."
The salon business is the right business to be in during an economic slump, said Aviza.
"We have always been firm believers that our industry is recession resilient. … It's considered a low enough priced item that people feel really good when they're finished with the service that it's something they wouldn't give up because it has immediate rewards," said Aviza. "It's the gown you never take off. … We feel really fortunate about being in this business now."
Keeping the new Rumors in the Town of Colonie was important to them.
"We know our clients and our community. We've been in this community and love this community," said Aviza. "We could have gone anywhere with our business within reason but we chose the Latham-Loudonville area because it is home to us."
The salon is nearing the end of its 25th year in business and Aviza said it's gone through too many changes to name on its journey to this milestone.
"We grew from a team of four to a team of over 87 trained professionals. We went from working behind the chair 50 hours a week … to learn the business aspects of our industry," said Aviza.
Aviza and Norgrove pride themselves on maintaining a hands-on approach to their operation, with Aviza taking on a lot of the education components (Rumors offers various beauty classes) and Norgrove spending a few hours on the floor each week.
"We're very passionate about what we do. We've never woken up one day and said 'I don't want to do this anymore,'" said Aviza.
The new Rumors Salon and Spa is being designed by Michele Palafas, Inc. of Chicago and Design Logic Architects of Albany and will feature "distinct" entrances for male and female clients as well as a third entrance for the company's corporate office. For more information about Rumors and the services it offers visit www.rumorsinc.com.
Vote on this Story by clicking on the Icon