SCHENECTADY COUNTY — Matthew Tully is resigning from his position as chief of the Schenectady County SPCA, but he will continue to serve more than just the county from thousands of miles away.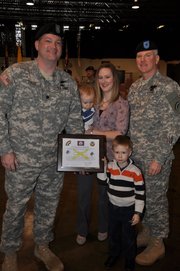 Tully announced on Veterans Day he would be leaving his post as chief humane law enforcement officer due to his upcoming military deployment scheduled for July 2012. Even though Tully won't be deploying until long after this winter's snow has melted, he said he wants to spend more time with his family before his potentially yearlong tour. Tully is a lieutenant colonel in the New York Army National Guard.
"It is the most rewarding and pleasurable job I ever had and I leave it with a heavy heart," Tully said. "It was an honor and it was a privilege to have held the position."
Being the first chief of the SPCA, which is comprised entirely of volunteers, was an experience Tully said he enjoyed because he was able to help both people and animals.
"The thing that I enjoyed most was helping people. We are very good at helping people that have problems without putting them in handcuffs," he said. "The other pleasure is saving hundreds, if not thousands, of animals from bad conditions."
Since his announcement, Tully said two applicants for the post have come forward. He said one is a retired police officer and the other is a retired federal law enforcement officer. The fact the position is volunteer is sometimes an impediment in a search for a chief.
"The biggest problem we have whenever we do a search is the salary," he said. "The search is ongoing and it is continuous."
The county SPCA was formed in 2007 after people from the animal welfare community approached Tully Rinckey PLLC, specifically Tully, on getting the local organization running.
(Continued on Next Page)
Prev Next
Vote on this Story by clicking on the Icon