continued — Before stepping up as chief, Tully was involved with the general SPCA for several years, but he never planned on holding the top job.
"We were originally hoping to get a retired police officer to be the head of the SPCA," he said. "I was able to step up to the role of being the chief humane law enforcement officer."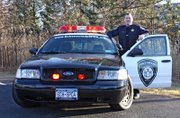 Besides a background in law enforcement, fundraising abilities will also be a factor in picking a successor.
"Law enforcement and fundraising ability will be critically analyzed during the selection process," Tully said in a statement. "While the SPCA has established itself in Schenectady County, we rely heavily on donations and volunteers to run our organization."
Tully said the county SPCA would benefit from a new person leading the organization. He said he had the skills for the "birthing" phase of the organization, but a different skill set would be appropriate for its "adolescent" and beyond.
The SPCA is at a "very high point," he said, after its officers were recently appointed as the county animal control officers for the purpose of enforcing licensing and control of dogs.
"I like the idea of leaving at a high point," he said. "I think there are a lot more things that could be done with the organization."
The recently reached agreement with the county means revenue generated from fines is split evenly between the county Sheriff's Office and SPCA. The 50 percent given to the SPCA will go towards further enforcement and the Sheriff's Office's half will go into an account to be used for housing animals. Any tickets issued by the SPCA will now be under penal law instead of civil law, so the District Attorney's Office will prosecute those cases. City or town attorneys previously handled the cases.
Tully said the demand on the SPCA has only been growing over time.
Vote on this Story by clicking on the Icon