continued — "The organization now is reaching an unprecedented level of phone calls," he said.
Being a part of the SPCA isn't Tully's only passion though.
The call of duty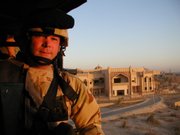 Tully has been in the National Guard for 13 years after receiving an ROTC scholarship providing funding for his college education. After serving his obligation to the guard, he enrolled in law school and eventually started his law firm out of his home.
"I love being in the military just as much as I love being a humane enforcement officer," he said. "I look forward to this year in Afghanistan."
Previously, he was deployed in Iraq, Kuwait, Egypt, South Korea and Germany. This will be his first deployment in Afghanistan. Tully has experience as an artillery officer, but in his upcoming deployment he'll serve as a space operations officer. He said less than one percent of people in the army are space qualified.
"(I) make sure all of the space assets are being used to protect the military and make sure space assets are not being interfered by the enemy," he said.
Some specific duties of the position include monitoring spy satellites, global positioning systems and Blue Force Tracking, a system used to watch the positions of American soldiers.
"It is an interesting topic when lawyers come up to me and ask, 'What do you do?'" he said.
A memorable experience for Tully was the first time his unit was attacked by an enemy during the Iraq war, which included taking rockets and motor fire.
"I have stood eye-to-eye with communists and terrorists and it is all because of military experience," he said.
Coming back home isn't always the easiest thing, either.
"When you go through experiences like that it is difficult to relate to people that haven't," he said. "(My wife) wasn't able to experience those emotions that you go through that are there … A lot of times you don't want to tell those things to someone you love."
Vote on this Story by clicking on the Icon