continued — With such a range of techniques, it might come as a surprise that Gianfagna didn't make his career in art. In fact, of the 53 years spanned in the show, a large chunk of that time (about 40 years) was spent working as an architect and master facilities planner and builder.
"Art supplemented, it was therapy, it was the opportunity for me to be active in things going on around me," said Gianfagna.
The unusual volume of art and the diverse quality of the pieces produced by a "hobby" artist is what caught Curator Sergio Sericolo's eye.
"I thought it was interesting he had this architectural background but had been doing artwork so long. I saw his work and really loved it," said Sericolo.
Sericolo said the decision to showcase 53 years of art was obvious from an artist's standpoint and the viewer's.
"He has great facility with any medium he touches and I was really impressed by his work," said Sericolo. "I wanted to keep the students in mind because the space is in the student space. Let them experience work they might not see anywhere else."
Gianfagna's devotion to art while juggling a busy career is something Sericolo felt students could also relate to.
"People who aren't making a career in art but do art and it's a part of their life … the student might feel that connection," said Sericolo.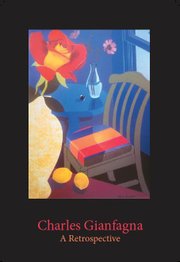 It's not first in line at the art exhibit, but the cut paper technique was one of the first art forms Gianfagna experimented with while he was still in college.
"I started cutting objects in halves and quarters and displaying them in different ways. I started looking at this idea of layering like you do in a collage," said Gianfagna.
Inlaying and creating intricate cut paper pieces led to an "obsession" with airbrushing, not typically considered art.
Vote on this Story by clicking on the Icon