continued — "[It's] not considered a high art as a medium. It was relegated to people who were illustrators or retouched photographs," said Gianfagna. "It's very difficult to work with, takes a tremendous amount of patience and time but it could give you very realistic results. That's how I could create little surprises."
After his airbrushing phase came casting shadows, a difficult task where he discovered how to draw out the 3D characteristics of shadows.
Biographs is where he's attracted a lot of commission, where he creates a piece intimately reflective of a specific person.
"It starts with a biograph of me as the artist and ends with a biograph of my wife, Meg, and my three children," said Gianfagna. "The exhibit is buttressed by these two things, me as a person and my wife and family, which is the most important part of my life."
Biographs aren't always quick to complete and he has been working on three for about eight years.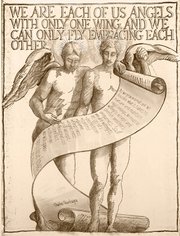 Now, he's in what he calls his "inspirational phase." It's angels, Jesus during his childhood and cathedrals and he's grouped all three to create ArtofCharles.com, where people can view his work and purchase prints, cards, calendars or journals. The drawings are detailed and complex, done simply in ink.
"Messages from Angels have a wonderful rich belief and cultural meaning of angels in our lives. … I put the idea of messages and angels together," said Gianfagna. "Death, other expressions of life, partnerships, divorce."
His childhood of Jesus illustrations are unique and intriguing because that portion of his life has never been documented, said Gianfagna.
"There's an enormous amount of art about Jesus, from birth to crucifixion, but a lot of gaps in between the storyline," said Gianfagna. "I thought I would explore the adventures of Jesus as a child."
Vote on this Story by clicking on the Icon