COLONIE — There's a longstanding oratorio tradition of using young boys to fill soprano roles. These days that practice is no longer as common, but on Sunday, Dec. 4, 8-year-old Joshua Roundy of Nassau will bring that tradition back with a soprano solo in a performance of "Messiah."
"I feel really good and I feel a little rush inside as I practice with the choir," said Roundy.
Christian Arts International, Inc. is presenting its holiday "Messiah" performance, the 31st of its kind, featuring Christian Arts Community Choir, Phoenicia Community Choir and Metropolitan Opera Baritone Louis Otey.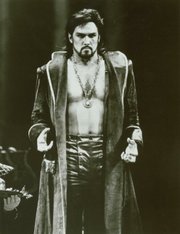 "It's so wonderful to go back to an earlier tradition [of using boy sopranos]," said Otey. "The purity of a male soprano, those boys just have a very innocent and piercing attractive sound. It's quite different, quite wonderful."
Sylivia L. Kutchukian, president of Latham-based Christian Arts, said as soon as she heard Roundy sing, she knew he'd be perfect for a solo.
"Here we have an opera singer, a youngster who might be a prodigy, it's just so beautiful to see the way this whole group is evolving," said Kutchukian.
Christian Arts is a non-denominational organization that gives local artists of all types a spiritual outlet for their creative expression. Kutchukian founded it after stints as an opera singer in Egypt and teaching music at a few colleges.
"I'm a musician, I like art and I like to encourage people who are in the arts to give them a platform to express their art where they wouldn't have other opportunities," said Kutchukian. "They can really express their arts freely. … We train them and they go back to their own communities and they train others, so we train them to be trainers."
The holiday performance of "Messiah," written by George Friderick Handel, is just one of the community events Christian Arts presents, but for Kutchukian it's the most important.
(Continued on Next Page)
Prev Next
Vote on this Story by clicking on the Icon
More like this story