continued — "It has personal meaning to me because it goes back to when I was 14 years old when I first sang in the choir living in Alexandria, Egypt," said Kutchukian. "It's the gospel to me. It's the gospel of the truth of Jesus Christ and it's my way of spreading the gospel through this masterpiece."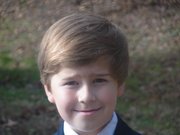 This year's rendition has bloomed into something special, said Kutchukian, because of the caliber of talent she was able to attract. Otey has sung opera professionally for 35 years around world and agreed to travel from Phoenicia to lend his baritone voice.
"It's my privilege to participate. I'm very honored I was asked to do it," said Otey, who had his first opera role at age 19. "I think it'll be a great thing for the community and I hope people will come out and hear it."

Otey said he feels a connection to Christian Arts and its mission and hopes to build Capital District musical relationships.
"I think the organization that she's put together in Albany is a very worthwhile organization and stands for the right things," said Otey. "Albany is our state capitol and we have started a music festival down here in Phoenicia so there's lots of reasons we want to be connected."
Though he's spent time in famous theaters from New York City to Australia, he said he's looking forward to the intimate community atmosphere Christian Arts will provide.
"Just the chance to sing this great piece with other like-minded people … I think it'll be a great deal of fun and it's just great when you get together with other people and do something that's uplifting and happy and joyful and celebratory," said Otey.
He'll be making the trip north with his wife and her Phoenicia Community Choir just two days before the performance and later in the month, he'll perform "Messiah" again back home just before Christmas.
Vote on this Story by clicking on the Icon
More like this story