continued — Landscape photography is her favorite but Baxter said she's not wedded to that style. She's self-taught, so experimenting with portrait, food, architecture and wedding photography is natural.
"I watch a lot of YouTube videos, go through the Internet and go through pictures to try to get ideas to see what's out there. It's improved my photography a lot," said Baxter. "Landscape photography is really easy; it's always there and doesn't move … it's fun to see what you can take pictures of and it's a moment in time that maybe somebody else didn't see when they looked at it."
Baxter's got a grasp of composition but said she's still working out kinks with lighting and exposure. She's also working to perfect indoor photography and working with studio lighting.
"I shoot pretty much everything. I just love taking pictures," said Baxter. "I try to look at what's around; try to not put certain things in the picture. I try to see what captures my eye."
She started a Facebook page to share her photos called Tina Baxter Photography, which has 250 followers, and also donates artwork to not-for-profits like New York State Parks and the American Red Cross.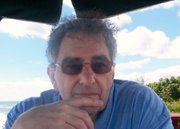 Peter T. Rossi of Slingerlands has been practicing photography as a hobby for about eight years. He shoots because he loves it but he enters contests to win.
"That's what I do it for, the prize. It's very flattering," said Rossi. "I realize that everybody's tastes are perhaps completely different than mine so when you win, it's great but when you lose, you move on."
His photo titled "Bateaux Lesson" took third place in the "For the Fun of It"' category.
"It was taken at Mabee Farm and it was of someone giving three people a lesson on how to row a bateaux [a big wooden rowboat] on the Mohawk River," said Rossi, who has been published in the Erie Canalway Heritage Corridor calendar twice before and won ribbons at other local art contests.
Vote on this Story by clicking on the Icon