continued — He said he's drawn to landscapes and "semi-landscapes" like the Albany Tulip Festival because he strives to depict a scene.
"I like to compose it as I'm viewing it and in a way that someone else might appreciate it also," said Rossi. "Then, if it's something that's very well known that I'm photographing, I try to take the photos from a different perspective."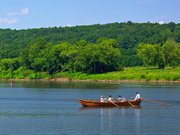 Now retired from a career in marketing where images abound, Rossi said he's always been interested in photos and is relishing the chance to be on the other end of things.
"I enjoy the challenge of finding a scene and trying to make it into a permanent representation of a feeling; imparting a feeling," said Rossi.
Rossi recently returned from a trip to Alaska. Of course, he brought along his camera.
"Some of the days, as you'll find in Alaska, were overcast and rainy, but I still took photos and some came out quite well," said Rossi.
Traveling the world shooting photos is what he hopes to continue doing.
"I don't necessarily have a particular photographic target in mind but I would enjoy new and different challenges," said Rossi.
Katrina van Tassel of Malta won second place for her photo, "All in a Row," which shows a portion in Waterford. She said it was "perfect lighting" on the July 4 morning it was captured. She's entered the contest for three years.
"It's nice to validate that you've got an eye and can take decent pictures," said van Tassel.
The twelve photos made for a striking calendar, but Mackay said they also serve an important purpose.
"In part, we wanted to raise awareness about the National Heritage Corridor and invite people to show us what they were seeing," said Mackay. "And it's nice to make the calendars available for free so people can see with a fresh set of eyes what's right in their own backyard."
A full list of winners and collection of images is available online at www.eriecanalway.org. Calendar locations will be posted online in November.
Vote on this Story by clicking on the Icon