continued — After that though, it's off to another far-reaching, exotic location: New Zealand.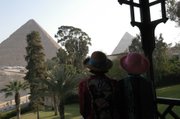 The 13-day tour leaves March 25 and returns April 6. Travelers will tour New Zealand's two major islands with mountain chains, coastlines and rainforests, exploring wineries, private gardens, landscapes featured in the movie "Lord of the Rings" and villages from the Maori culture. The tour will finish with two nights in Sydney, Australia.
The New Zealand trip ($5,499 total, which includes international airfare from San Francisco, double occupancy accomodations, some meals, attraction fees and a charitable donation) will benefit Saratoga Arts and Soroptimist International of Saratoga County. An information session will be presented by Mary Huber, the other founder of the company, on Saturday, Oct. 15, at 11:30 a.m. at Saratoga Arts at 320 Broadway.
"Edventures has been working with Saratoga Arts for many years. Through our partnership, Saratoga Arts has been able to do world-wide and closer-to-home trips that blend art education with the pleasures of traveling with a small, warm group of people and supremely qualified and experienced trip planners," said Reed.
Rachun said Edventures provides travel where people learn, an important business pillar that grew out of her years of event or travel planning for Cornell University and an international tour firm.
"You're not going on a cruise or sitting on the beach getting a tan," said Rachun. "That's lent credibility to us as experts in art and culture."
The interactive trip often forges friendships that extend beyond the vacation.
"I consider it a circle of traveling friends," said Rachun. "Usually that is what happens when people travel together and hit it off. It's made it really rewarding."
Picking a favorite trip is impossible, said Rachun, who insists "my best trip is my next trip."
"I always look forward to my next experience and that enthusiasm can be infectious," said Rachun.
A few travel experiences stand out from the rest.
"Last October, I went with both my sons to the great pyramids at Giza into King Tut's tomb. It was an unforgettable experience," said Rachun. "We went hot air ballooning over the Valley of the Kings."
For an itinerary of the New Zealand trip or for more information about Edventures, visit www.goedventures.com.
Vote on this Story by clicking on the Icon