continued — "She's pretty tough as far as dealing with this. Her quality of life is certainly not what it should be," said Wells. "She lives in an apartment above her mom. She always wanted to get a place of her own … it seemed like the perfect and logical place for her to go."
Wells said planning Linda's sixth surgery made him feel helpless to fix things, so he decided to find another way to help.
On Saturday, Sept. 24, Wells kayaked down the Hudson River to raise money (but mostly awareness) about the disease and in honor of Mesothelioma Awareness Day on Sept. 26.
"Three of us paddled down the Hudson … Schuylerville to Mechanicville in just over five hours," said Wells.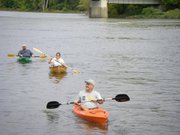 Wells chose kayaking because it's different than traditional fundraising runs, walks or bike rides and is a hobby he recently picked up.
"I don't remember seeing people kayaking before … I like it so I said, 'That's what I'm going to do,'" said Wells.
Patti Turi of Stony Creek went from being a complete stranger to forming an deep bond with Linda and her family just minutes after seeing Wells on a local television news broadcast.
"I called Mark within 10 minutes and told him I'd be there," said Turi, who kayaked alongside Wells.
Turi also has Mesothelioma, and was diagnosed 10 years ago when she was 43. She said it was difficult for her to deal with as an adult so she felt an immediate urge to support Linda, who went through it as a teenager.
"I couldn't possibly imagine being 16 and given that same kind of a diagnosis," said Turi. "I felt I really needed to do this in order to support her in her journey."
This is the first time Turi has participated in an event to raise awareness about the cancer and it's an effort she said is important to continue.
Vote on this Story by clicking on the Icon