continued — "It's something I really think people need to be aware of," said Turi.
With Turi and a few other people in his corner, Wells now has a small team to help support his awareness efforts.
"I'm starting to plan next year's event. Next year it will be a lot bigger because I've got so many people who want to help me," said Wells. "People don't really know about it, it's a rare cancer."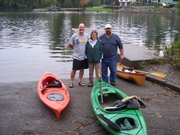 Wells said since it's often referred to as an orphan cancer, with only about 2,500 to 3,000 newly diagnosed cases a year in the U.S., government funding is "lopsided" compared to other cancers.
"Hopefully by raising awareness, more money will get earmarked for research," said Wells.
More funding for research and new treatments would go a long way in helping people like Linda, who need multiple surgeries and can encounter insurance issues.
"We're waiting on the insurance company. It's kind of making us jump through hoops to get this to happen. The procedure she needs done is in Maryland so [insurance] isn't an automatic thing," said Wells.
Turi feels lucky to have been relatively healthy for a while now but said doctors will never pair "Mesothelioma" and "remission" together.
"Because of the nature of asbestos, it's something you'll always be looking over your shoulder," said Turi, who sees her doctor for testing every six months.
It's a whole year until Wells can hop in his kayak to raise awareness again, but for now, there is still one thing he can do for Linda.
"All we can do is be supportive," said Wells. "Make sure she gets as much treatment as is available out there."
And, for the first time, Wells and his daughter have a special, new kind of support.
"I feel that because of my health I need to be able to be there to support [Linda]. Her journey through this has been much worse than I could imagine," said Turi.
Anyone with questions about how to help can email Wells at markwells@inbox.com. More information about the disease can be found online at curemeso.org.
Vote on this Story by clicking on the Icon