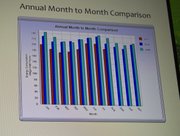 continued — Councilwoman Denise Murphy McGraw said the project was initiated at Town Hall after grant money was made available from the state. Schenectady County Community College, where McGraw is the chairwoman for the Board of Trustees, originally received grant money for the same project on campus. This led her to pursue also doing the project in Niskayuna.
"The state in particular was interested in targeting some municipality and government buildings where they could set up terminals exactly like this … and then be able to use the data and look for energy efficiencies," said McGraw. "While I was in the original meeting, where they were talking to me about the community college, I said, 'Can we do this at the Town of Niskayuna also?'"
She said there are only a handful of the pilot programs around the state, with Schenectady County holding two, so it is great to bring the opportunity locally.
"They'll help us to work to find other ways we can achieve energy efficiencies and then we can work through Rich [Pollock] and other consultants that they provide through NYSERDA to see if we can qualify for other grants," said McGraw. "A lot of people come into this building, so it is also an idea that we thought was important to kind of elevate the awareness of all of this."
Supervisor Joe Landry said the monitor is operational now, but the town is still working through some bugs and hurdles to get it fully functional. Once it is active, the monitor would be on showing the different graphs and charts throughout the day for anyone to see. He added the town is also going to look at adding more revolving screens with different types of data. Also, more sources of energy and locations could be added, but electricity usage at Town Hall is the only data currently displayed.
Vote on this Story by clicking on the Icon