NISKAYUNA — For one Navy veteran, receiving the medals he earned during WWII came as a complete, but pleasant, surprise.
John Luczka, an 88-year-old resident at Ingersoll Place Assisted Living, received three medals and two pins he should have received decades ago after serving as a tail gunner protecting American allies during WWII. A reception was held on Thursday, Sept. 22, with family and friends as Luczka shared many smiles for medals he thought he'd never receive. U.S. Rep. Paul Tonko's Office worked to secure the medals after Luczka's niece, Linda Novak, contacted Tonko asking for help.
"My Uncle, when he first came into the assisted living, he had said to me 'I was in the Navy, but I never got my medals.' … so I said 'Okay, I'll see what we can do,'" said Novak. "He is just thrilled with the fact that he got them."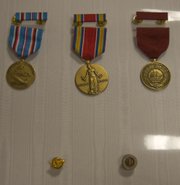 Luczka was excited he'd finally received his medals and he also happened to save room for some of the American flag decorated cake, which was served during his celebration.
"I wasn't expecting anything like this … it was a complete surprise," said Luczka. "I had a pretty big lunch … so I skipped dinner tonight and I'm glad I did, because I wouldn't be able to [eat some cake]."
The process of getting the medals took a couple of months to complete, said Novak, but she had his discharge papers and necessary documents, which made it easier to obtain the medals. The three medals he received were for Navy Good Conduct, WII Victory and American Campaign; also the two buttons were for Navy Discharge and Honorable Service.
Luczka even shared one of his war stories during the event.
"We were at least half way to England … when we came upon this Italian submarine on the surface and most of the crew were on deck," he said. "We thought that was one of the enemies, so we opened our bomb bays and went in on them."
(Continued on Next Page)
Prev Next
Vote on this Story by clicking on the Icon