continued — He said the Italians then waved a white flag and surrendered, seeing the bomb bay doors open on the plane circling the submarine, but the captain of the submarine and the first pilot spoke to each other on the radio. He said the submarine's engine was dead and a destroyer was called in to pick up the crew from the submarine.
Receiving the medals, Luczka said, "means that my service was appreciated."
Novak was also pleased she could get her uncle, who grew up in Niskayuna on his parents farm, the medals he earned.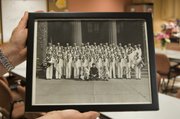 "I was so happy and so excited," she said. "For tonight, I was probably one of the most excited persons, because I knew how happy he was going to be. They were well deserved and for not to be able to have them I wanted to make sure he got them before anything happened to him."
At one point, after the celebration started to calm down, Luczka said to a friend, "I've got to stop the tears from coming into my eyes."
Cora Schroeter, constituent representative from Tonko's office, said getting veterans their medals is something he has done before and tries to assist in whenever he can help.
Unfortunately, not receiving due medals isn't unheard of.
"Sometimes because of the turmoil of the time and when they are discharged from service … sometimes it gets overlooked," said Schroeter.
She said for anyone interested in getting due medals it is important to seek out their representative to ease the process along.
"Sometimes these medals are difficult to get," she said.
Now, Luczka said he would keep the medals on display in his room at Ingersoll, because doesn't want to put them away in a drawer after the long wait to receive them.
"I certainly don't intend to hide them someplace now that I've waited all these years for them," he said.
Vote on this Story by clicking on the Icon