continued — So what's the key to her youthful vibrancy?
"I don't abuse my body and I try to stay healthy and do the right thing," said Lee.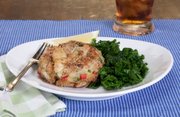 Crab Cakes in Potato Crust
Yield: 4
Ingredients
1 lb. Phillips Lump Crab Meat
1tbsp. Butter
½ c. sweet red pepper, finely chopped
½ c. sweet onion, finely chopped
2 tbsp. Fresh flat leaf parsley, chopped
1 c. lightly packed soft bread crumbs
2 tbsp. Miracle Whip
1 egg, lightly beaten
1 tbsp. Worcestershire sauce
1 tsp. Hot sauce
½ tsp. Sault
¼ tsp. Black pepper
1 c. instant potato flakes
4 tbsp. Vegetable oil
1 lemon, cut into quarters
Preparation
Melt butter in skillet over medium high heat. Add pepper and onion. Sauté 2 minutes until tender. Combine cooked vegetables, crab meat, bread crumbs, Miracle Whip, egg, Worcestershire sauce, hot sauce, salt and pepper in large bowl. Form into four crab cakes. Coat with potato flakes. Pour oil in skillet over medium high heat and cook 2 minutes each side until heated through and lightly browned. Garnish with lemon. May be served hot or cold.
Vote on this Story by clicking on the Icon