continued — "We really want to be the destination for health and wellness, a resource for any questions you might have about cooking tips to recipes to individual counseling," Bernstein said. "It is really whatever the customer needs."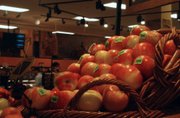 Cooking demonstrations are held weekly at the center, which features a healthy recipe and might include different food choices people are "hesitant to make on their own," Bernstein said. Also, she said the previous store she worked at in Kingston did a lot of community outreach, which can be offered locally if requests are made.
"We could even come in and do a hands-on demo," she said.
A feature Bernstein touted was the 84 feet of shelves offering gluten free choices, which is separated from the rest of the food items.
"If they need a gluten free bread … it doesn't make much sense to have it integrated," she said. "We are really like a one stop for people with gluten sensitivity and it is a growing population."
Urtz said ShopRite has been out in the community since Niska Day and held more than 100 different meetings with various community members to find out what they wanted from the supermarket. This helped the store focus on certain items and local offerings, such as offering Villa Italia baked goods.
"We did food tastings in people's homes … anything to get our foods in front of customers and then understand from them what they are looking for in their local store," Urtz said. "We wouldn't be able to get that information if we didn't go out and talk to the consumers."
The store also has a cheese department with its own full-time staff ready to custom cut more than 100 cheeses, but the total selection includes more than 250 varieties, said Augie Reyes, director of deli and prepared foods. The "cheese shop" is his favorite aspect of the store.
Vote on this Story by clicking on the Icon