Saratoga — This is the tale of two photographers.
One captured the unspeakable scars left by the Battle of Stalingrad in World War II; the other, untold stories of construction sites and their workers. Two vastly opposing concepts that come together in one art exhibit, "Frame Story: The Narrative Within,'" that allows viewers to make their own new story.
"The contrast between my exhibit and Emma's exhibit is, in itself, a moving experience … I would suggest looking at those survivors of the battle as grandparents that we all know and feel comfortable and familiar with," said Roy W. Stevens, one of the photographers. "On the other side [is] the project I call 'men of steel.' We sort of have to build a familiarity with them. They are not people doing things that we have experience with so I think putting this together as co-exhibitors was quite perceptive … it works well."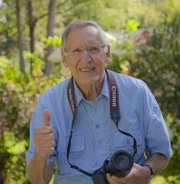 Stevens has been photographing for 18 years, everything from landscapes to construction sites. What's housed at the Arts Center Gallery at Saratoga Arts until Nov. 12 is a collection of black and white photos from the past four years that give a peek behind the buildings or bridges we pass every day.
"Principally, it tells the story that we don't as consumers or users of industrial or heavy construction think about; the people who put them together," said Stevens. "We've crossed bridges often twice a day or huge overpasses or we are in large concrete buildings and we don't ever contemplate how that came to be."
Through his work with a steel firm in Schenectady County, Stevens gained access to steel fabricating shop floors and construction sites usually off limits to the general public.
"I took special attention to composition, to the geometry; the drama of people on high steel beams or with welding torches," said Stevens.
(Continued on Next Page)
Prev Next
Vote on this Story by clicking on the Icon