continued — What he ended up with was a pictorial documentary that gave the anonymous a chance to speak.
"The engineers, the craftsmen, the laborers are crucial to the construction; to the design and placement of these structures," said Stevens. "We don't consciously avoid looking for these things; we're just not permitted or allowed for all kinds of reasons."
Stevens said it was when he was roving the prohibited spaces (camera in tow) and taking in the unfamiliar atmosphere that he knew, without a doubt, this project was right.
"I thought, 'I have an opportunity to develop this and present it to folks in an artful way,'" said Stevens.
Emma Dodge Hanson is the other photographer. Her project couldn't be more different but is no less affecting.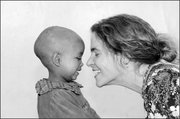 "I was asked to go on a photo shoot in Moscow and Germany to document the last survivors of the Battle of Stalingrad," said Hanson, who accompanied Rutgers University professor Jochen Hellbeck. "We went into people's homes. It was powerful."
Hanson doesn't speak Russian or German, so armed with just a camera and her own intuition, her photos turned out vulnerable, raw and dramatic.
"You really just have the visual to go on when they're telling stories about things that are horrific," said Hanson. "I was looking at the expressions on their face and not understanding their words."
Though Hellbeck shared the stories as they traveled from home to home, Hanson already had a deeper understanding of the emotions her subjects were relaying through their memories.
"One of the images was of a beautiful older gentleman in his apartment with big cheekbones, listening to his wife talk about crossing the river at night when it was not possible for everyone to swim and I could tell from the expression on his face how horrible the stories were," said Hanson.
Vote on this Story by clicking on the Icon