continued — "This case was something that we knew was going to happen and we had been working with the county attorney for three years to plan for this," Tully said. "The SPCA's job is to protect animals and we take it very seriously. We believe that we have taken a very aggressive stance to protecting animals."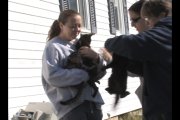 Regels was cooperative with police officers, Tully said, and 12 cats were removed the night before she was arrested through friends and neighbors adopting the felines. The dog was put down due to serious neglect, Tully said, along with eight cats that were also euthanized upon a veterinarian's recommendation. There are 15 more cats under veterinarian care to determine if they should be adopted or destroyed, he said.
"It is probably one of the worst cases in the greater Capital Region in some time," Tully said. "I have been doing this for 20 years, and this is bad, but it does not rank up in my top five worst. On at least five separate occasions in 20 years I had to call the fire department to use oxygen tanks."
Despite the scene not ranking as Tully's worst, he described the seriousness of the situation.
"The smell was absolutely horrendous in there and the floor was caked with feces and urine," Tully said. "I was able to make it in five to 10 feet before I had to put some Vicks vapor rub up my nose."
Using the rub is an old trick, he said, to overwhelm an unpleasant smell, but he said the smell still came through.
According to the SPCA, the organization has reached its breaking point.
"This has been a three-year fight to get them to listen," said Randy Simons, spokesman for the SPCA. "It has been building up and this Rotterdam case was the last straw. It got to the point that enough is enough and we need a decision for future cases."
Vote on this Story by clicking on the Icon