Saratoga — Did you know that one tie-dye cupcake could change a life?
Between Nov. 1 and 8, fundraisers around the country — including at Skidmore College — will sell tie-dye cupcakes and donate the money to She's the First, a nonprofit organization that provides girls in developing countries with the education they're frequently deprived of.
"It's the perfect outlet to channel the fundraising … we add food coloring to make it tie-dyed, which really stops people in their tracks," said Tammy Tibbetts, founder of She's the First.
Last year, the fundraiser was only held at the University of Notre Dame, which raised $900 for She's the First, enough to sponsor three girls in Nepal. This year, Tibbetts decided to take the colorful campaign national.
"I realized this could be a huge opportunity, based on the reaction I was getting, to create a unified national campaign," said Tibbetts.
So far, 66 groups across 30 states have signed on, but the goal is to reach 200 and span all 50 states.
"This is the first time it's been a cohesion and community movement. We're building up to this one week. We're all doing the same thing together, with various creative spins on it," said Tibbetts.
One of the fundraiser's most active groups is Her Campus Skidmore, an offshoot of the national online magazine for college students. Kelsey Thorn, who handles publicity for Skidmore's version, is the one who brought tie-dye cupcakes to town.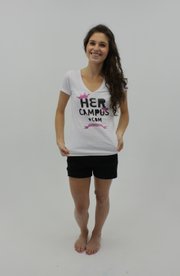 "This seems like a place we could get a lot of involvement in. People would feel like their money is going to a certain area," said Thorn. "People are more willing to donate or give to a cause when they have a specific endpoint where they can see it going."
Thorn picked Ethiopia as the country to benefit from cupcake sales. Her reasons for selecting that developing country were personal.
(Continued on Next Page)
Prev Next
Vote on this Story by clicking on the Icon