Saratoga — Sustainability is slowly creeping into the American framework—electric cars, urban gardens, biking instead of driving, to name just a few trends—but it's still a concept much of the country hasn't fully grasped. So, it's only natural this generation's youth would have plenty of questions of their own.
Ruth Ann Smalley of Albany thinks she holds the formula to explaining green living to kids: equal parts humor and fact.
"You don't want to lay on the heavy stuff when they're young … [but] kids want explanations for things, they want to know why you're doing that," said Smalley. "Little kids are very concrete thinkers so putting it in terms they can understand is really important and keeping it light, upbeat."
Smalley tested out that model with her first children's book published last June, called "Sheila Says We're Weird." Smalley will sign copies of her book at the Green Conscience Home & Garden Showroom in Saratoga Springs on Saturday, Oct. 22, at 11 a.m.
"It comes out of the fact that my kids are still pretty young and I read an awful lot of children's books for many years and thought we needed to see something about this," said Smalley.
Penning a fiction children's book is a far cry from what Smalley's used to. As an English professor at the College of Saint Rose, dissertations and academic articles published in journals were more the norm.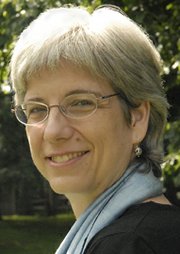 But a sabbatical intended for brushing up on literary critics slowly morphed into a hungry interest in holistic education and overall environmental sustainability.
"I became very involved in the pedagogy of ecology and I gravitated there because I was in a college setting and I got really swept up in reading about how systems were in decline," said Smalley. "I was shocked at what I was reading, how serious the situation was."
(Continued on Next Page)
Prev Next
Vote on this Story by clicking on the Icon