continued — The arrest of Michelle Regels, 39, of Suffolk Avenue, Rotterdam, for one count of animal neglect is what led to the lawsuit. After the Oct. 6 arrest, the SPCA had 44 cats and one dog needing either medical attention or a temporary home before adoption. According to the lawsuit, the Sheriff's Office refused to take custody of the animals.
"This mutually beneficial agreement will add an extra layer of protection for our residents at no additional cost to the taxpayers," County Legislator Robert Hoffman, D-Schenectady, said.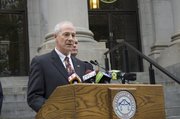 Hoffman also introduced legislation, "The Vicious Dog Control Act of 2012," during the press conference, which establishes many of the dog control elements SPCA would undertake. The proposal allows SPCA to issue violations including failure to license and failure to confine dangerous dogs.
"Last month we were all disturbed by the brutal dog attack that occurred in the City of Schenectady," County Legislator Robert Hoffman, D-Schenectady, said. "Recently, I was advised by our county attorney of a legal dispute between the Schenectady (County) SPCA and the county. I have been consulting with the county attorney and all parties working on a resolution that would not only resolve the legal dispute, but at the same time directly confront the problem of vicious dogs in the city and throughout Schenectady County."
Tully commended Sheriff Dominic Dagostino for working with the SPCA to establish a new animal control plan.
"The sheriff has been the subject of the lawsuit, but the sheriff has gone out of his way to be receptive of the SPCA," Tully said. "We've have worked very well with him in the past and look forward to continuing to work well with him in the future."
Also, referencing the sheriff, before Tully gave his comments he referenced a song title by Bob Marley for a one-liner.
"I just want to be clear, I did sue the sheriff, but I did not sue the deputy," Tully said.
Vote on this Story by clicking on the Icon